Gilliard Elementary is proud to sponsor an elementary archery team for third through fifth graders. 2006-2007 was our first year to field a team. The Gators have competed in the National Archery in Schools State Tournament every year since then in the Birmingham Jefferson Civic Center and most recently in The Crampton Bowl in Montgomery.
2010 was our first year to compete in the National tournament that is held in Louisville,KY at the Kentucky Exposition Center.
2014 Results
Gilliard won first place in our 6th annual Gator Pride tournament that was held on December 14-15,2014.The team score was 3019!
Gilliard placed 2nd in the Regional tournament that was held February 20, 2014 at Alma Bryant High School with a score of 3023 points!
Gilliard placed third in the Alabama State tournament 0n April 11 with a score of 3001 points. We received a bronze trophy for the school and the top 12 shooters on the team earned bronze medals.
On May 9-11 we will travel to the 2014 National Championships in Louisville, KY.
Students must write a full page letter in their own handwriting describing why they deserve to represent Gilliard on the archery team. This letter has to be signed by their parent, homeroom teacher and themselves to earn a tryout for the team.
Visit
this site
for more information concerning the National Archery in Schools Program.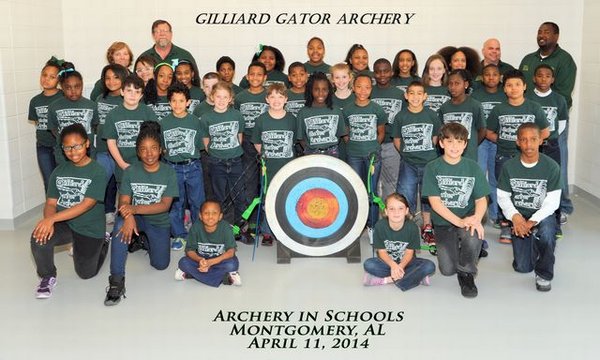 Gilliard Places 3rd at State